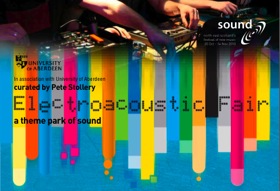 curated by Pete Stollery
A theme park of sound. For one day the MacRobert Building will be turned into a hive of interactivity with performances, workshops, demos and sonic "rides" for everyone to take part in. Artists include:
MTI-DMU Music, Technology and Innovation - De Montfort University
MANTIS MANchester Theatre In Sound - University of Manchester
BEAST Birmingham ElectroAcoustic Sound Theatre - University of Birmingham
invisiblEARts Pete Stollery, Alistair MacDonald, Nick Virgo, Pippa Murphy and Robert Dow
+ guest James Dashow
In the MacRobert Lecture Theatre
Elsewhere in MacRobert Building
All day from 10am
Interactive exhibits - workshops - sound installations - hands-on multimedia demos.
Visitors to the Fair will have the opportunity to participate in a hands-on DIY electronic musical instrument building workshop with MTI's Dr Noise, John Richards, who runs DMU's Dirty Electronics Ensemble.
Installations by MANTIS
Including Ricardo Climent, Sam Salem and Patrick Sanan.
Installations by MTI
Ron Herrema, Simon Emmerson (Memory Machines), Brett Battey and Andrew Hill. The MTI jukebox will run throughout the day featuring MTI research work.
2010-11-13T10:00
Saturday 13 November 2010, 10.00 am - 9.00 pm
MacRobert Building, University of Aberdeen, King Street, Aberdeen, AB24 3FX
Ticket Prices: All day ticket £5, £15 family ticket (2 adults and 2 children), group rates available <book here>

In association with the
University of Aberdeen
Also see:
read a review of this event
Also see:
Electroacoustic Fair