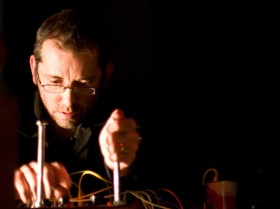 John Richards
John Richards' (1966) work explores performing with self-made instruments and the creation of interactive environments. He has worked with many leading improvisers and musicians in the field of live electronics, and is a founder member of electro-noise improvisers kREEPA, the post-punk group Sand (Soul Jazz Records), and the composers' collective nerve8: an experimental electroacoustic diffusion group. Recent concerts have included performances at IRCAM (Paris), Fylkingen (Sweden), the Bent Festival (Los Angeles), Sonar (Barcelona), and the Purcell Room, Southbank Centre (London).
In 2002, his work with kREEPA helped initiate the OIK project at STEIM, Amsterdam, that involved the hacking of commercially available hardware to create economic musical interfaces. Since 2005, he has directed the Dirty Electronics Ensemble, giving workshops and performances internationally that has included collaboration with Japanese noise artist Merzbow. He performs regularly with Nic Bullen as Black Galaxy and kREEPA, as well as releasing solo material on Bullen's label monium. In 2007, he released a piece on Gabriel Prokofiev's nonclassical label for piano and electronics performed by GéNIA with re-mixes by Vex'd and Max De Wardener amongst others. Recent work includes collaboration with Tim Wright as sevenlegspider developing systems for live performance, installations, and music for Japanese choreographer Saburo Teshigawara.
He has written numerous articles on hybridity, post-digital theory and dirty electronics: DIY and bricolage approaches to working with sound. John Richards completed a doctorate in electroacoustic composition at the University of York in 2002, and he is currently part of the Music, Technology and Innovation Research Centre at De Montfort University, Leicester. Since 1990, he has also taught improvisation at Dartington International Summer School.