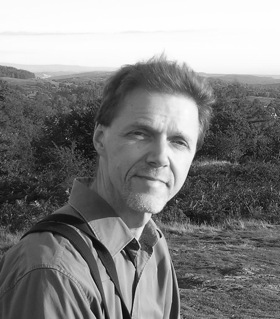 Ron Herrema
Ron Herrema is a composer, teacher and researcher working at De Montfort University's Music, Technology and Innovation Research Centre in Leicester, England. He is a native of Grand Rapids, Michigan and received his PhD in composition (2001) from Michigan State University, where he studied with Mark Sullivan, Charles Ruggiero, and Jere Hutcheson. He has also studied with Gerard Pape and Julio Estrada at the Center for Computer Music Iannis Xenakis in Paris.
He composes both acoustic and electroacoustic music, specializing in algorithmic composition and in interdisciplinary approaches to music composition. In recent years he has also been creating photographic art and generative graphics. He has presented papers and published articles on the relationship between music and architecture, on music technology and politics, and on the evolving relationship between composers and programming.
His solo CD 'Changing Weights' is available through Capstone Records, and his compositions have been played internationally in concerts presented by such organizations as the Centre de Cultura Contemporània de Barcelona, ABC Classic Radio, Sonic Arts Network, Stanford's Center for Computer Research in Music and Acoustics, the International Computer Music Association, the Society for Electroacoustic Music in Sweden, the Society for ElectroAcoustic Music in the United States, blip, the Pennsylvania Academy of the Fine Arts, Society of Composers, Inc, and Cathedral, among others.