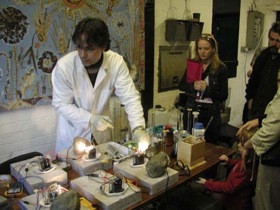 Ricardo Climent
Ricardo Climent is an active music composer. He often finds in the field of music technology, original new routes and stimuli to explore and develop distinctive aspects in his music, both in the creative and performing environment. Currently, he lecturers at the School of Arts, Histories and Cultures, University of Manchester and serves as Co-Director of the NOVARS Research Centre. He previously held a Lecturing position at the School of Music and Sonic Arts (SARC), Queen's University of Belfast, where he also obtained a PhD in composition and a MusM in Computer Music. In 1990 he also graduated in Economic Sciences at University of Valencia, Spain.
Ricardo has served as resident composer and researcher at the JOGV Orchestra in Spain; Conservatorio of Morelia in Mexico (Unseco- Aschberg); Kunitachi colleague of Music, Tokyo (ACNI/Daiwa Anglo- japanese foundation); LEA labs, at the Conservatorio of Valencia; the Cushendall Tower- In you we trust, Northern Ireland and CARA- Celebrating Arts in rural Areas, a cross-border initiative in Ireland.
Among his most original long-term collaborative projects we find The Microbial Ensemble, (repertoire for a bunch of microbes, with biological engineer Quan Gan), The Carxofa Electric Band (a children's workshop using vegetables and Electronics with iain McCurdy), The Tornado-Project (a cross-atlantic set of commissioned works for flute, clarinet and computer for American wind virtuosi Esther Lamneck (clarinet) and Elizabeth McNutt (flute)), Drosophila (a dance-theatre world tour of a blind fly with KLEM and Idoia Zabaleta), Ho- a sonic expedition to Vietnam, (a 3D interactive interface project for plantariums and more recently s.low, (a cross-disciplinary project in Berlin involving artists from 19 countries around the world, in collaboration with Ima Pico).