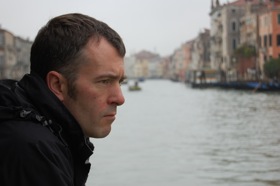 Alistair MacDonald
Alistair MacDonald is a composer and performer of electroacoustic music. His work draws on a wide range of influences reflecting a keen interest in improvisation, transformation of sound, and space. Many of his works are made in collaboration with other artists from a range of media, and explore a range of contexts beyond the concert hall, often using interactive technology.
His music has won a number of awards including a Creative Scotland Award, and is performed and broadcast in the UK and abroad.
Current projects include, Strange Rainbow, a live electroacoustic improvising duo with Scottish harp player Catriona McKay. He has also worked with Catriona on music for a silent film, Historien om en gut, for the Norwegian Film Festival, and Floe, a Celtic Connections commission, touring in March 2009.
Recent work includes Mitaki for string quintet and live electronics for the Scottish Ensemble, Equivalence (electroacoustic music), Scatter for euphonium & live electronics, Sensuous Geographies, an interactive performance installation in collaboration with Sarah Rubidge (shown in the UK and USA); and Silver Wings and Golden Scales, an installation in collaboration with Jennifer Angus. Other commissions include music for The Paragon Ensemble, BBC Radio Scotland, Reeling and Writhing, the Australian ensemble Elision, choreographer Shobana Jeyasingh and Theatre Cryptic.
Alistair is a member of invisiblEARts, a group of Scottish based composers, has worked extensively with the electroacoustic ensemble BEAST producing and diffusing concerts, and was, for many years, on the board of Sonic Arts Network, the UK association for electroacoustic music.
He teaches composition and is Director of the Electroacoustic Studios at the Royal Scottish Academy of Music and Drama in Glasgow. He's also a keen tango dancer.