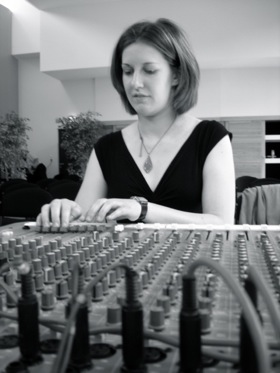 Diana Salazar
Born in Glasgow, Diana Salazar is a composer of electroacoustic music. She studied electroacoustic composition with Alistair MacDonald at the Royal Scottish Academy of Music and Drama and in 2009 completed a PhD in composition at the University of Manchester. She is currently a lecturer in music technology at Kingston University, London.
In addition to acousmatic composition and creating works for instruments and electronics, her research interests include laptop improvisation, site-specific installation work and multimedia collaboration. Her works have been performed throughout the UK and across Europe, the USA and South America. Work has also been broadcast on Swedish National Radio, Radio France, and BBC Radio 3.
Her compositions have been recognised in a number of international competitions including the Insulae Electronicae International Competition of Electroacoustic Music, CIMESP (The International Electroacoustic Contest of São Paulo, the Bourges Competition of Electroacoustic Music, Prix SCRIME, L'Espace du Son Diffusion Competition, Prix Destellos and Música Viva. She has been a composer-in-residence at CEMI (Center for Experimental Music and Intermedia) at the University of North Texas, Atlantic Center for the Arts in Florida, the Institute for Electroacoustic Music in Sweden, Orford Center for the Arts in Montreal and, most recently, the Destellos Foundation in Mar del Plata, Argentina.
extract from Bosonica (2009), a stereo mix of the original 5.1 work
audio clip included with kind permission
licenced by the MCPS-PRS Alliance for playback on www.sound-scotland.co.uk