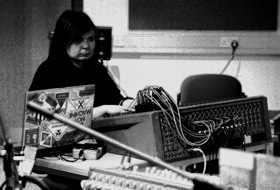 Louise Rossiter
Louise Rossiter (Hampshire, 1986) is an electroacoustic composer based in Scotland. She completed her undergraduate music degree at the University of Aberdeen, specialising in Acousmatic composition, under the supervision of Pete Stollery. Recently Louise embarked on the MMus (composition) course at the University of Edinburgh under the supervision of Robert Dow.
Louise's research interests lie in acousmatic sound, acousmatic ecology and sound perception. Earlier this year, she completed Projekt Berlin, an acoustic ecology project based online and using Google Earth.
In autumn 2009, Louise collaborated with Ross Whyte and Claire Pencak on a dance production called Lisbon Diaries which was premiered as part of the Dance Live festival and again in the Traverse Theatre, Edinburgh as part of a dance showcase entitled Pool.
Louise has also been the recepient of several prizes including a University of Aberdeen Small Grants Award for Projekt Berlin, the Alfie Tough Music Prize and most recently, the Chris Cadwur James Composition Award.