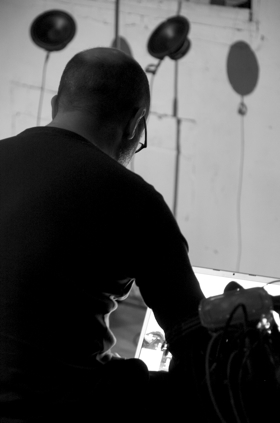 Scott Wilson
Born Vancouver, Canada; lived Middletown, Connecticut, Karlsruhe, Toronto, brief stints elsewhere.
Studies (one form or another) with Barry Truax, Christos Hatzis, Gary Kulesha, Ron Kuivila, Wolfgang Rihm, David Gordon Duke, Owen Underhill, and others.
Works for orchestra, electroacoustics, chamber, installations, multimedia, interactive, inter-inactive, usw.
Performances in Canada, the U.S., Germany, the U.K., Ireland, France, Belgium, the Netherlands, Japan, New Zealand, Switzerland, including Huddersfield Festival, Trash Festival, Esprit Orchestra's Next Wave Festival, Open Ears, Canada's National Arts Centre, and other august settings.
Recent projects with Darragh Morgan, rarescale, Jean-Guy Boisvert.
Recordings with 326music and Continuum Contemporary Music.
Lives now in Birmingham, UK (teaching at the University, working with BEAST) where life, generally speaking, is good.