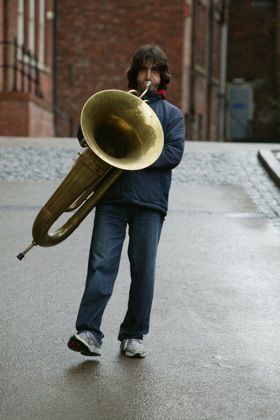 Oren Marshall & The Charming Transport Band
Oren Marshall is a pioneering player of acoustic tuba and electric tuba who, crossing between classical, jazz, improvised and world music, has collaborated with the likes of Derek Bailey, Sir Peter Maxwell Davies, Moondog, The Pan-African Orchestra and the London Philharmonic.
He has played with every major orchestra in London as well as with the Bolshoi Soloists, the Frankfurt Radio Symphony Orchestra and the Canadian Ballet. Amongst the many Duos Oren has played are performances with with veteran Jazz pianist, John Taylor; New York Beatbox wizard, Adam Matta; Saxophone maestro, Gilad Atzmon; Percussion dame, Evelyn Glennie and multi award-winning vocalist, Bobby Mcferrin.
As a solo artist, Oren has played all over the world and his ground-breaking solo work lead to a nomination for the BBC Innovation in Jazz Award, 2 years running. He has also played solo support sets for artists such as Moby, Vinicio Caposella, Murcoff and Tomasz Stanko.
He leads and writes for the Charming Transport Band, bringing together top musicians from Ghana and Nigeria and players from London's jazz and improv scenes.
A rambunctious young man
Gunther Schuller
I ain't ever heard a Tuba being played like that before
Bobby Mcferrin
*
The Love Music Festival artists are: Jonny Axelsson (Sweden) | Pascal Ayerbe (France) | Creaking Tree String Quartet (Canada) | Eva Quartet (Bulgaria) | Huun Huur Tu (Tuva) | Kolektif Istanbul (Turkey) | Kora Master (West Africa) | Oren Marshall & The Charming Transport Band (UK) | The Petebox (UK) | Sväng (Finland).
More info: www.lovemusicfestival.com