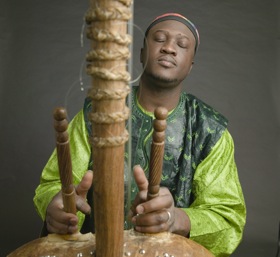 Kora Master
Mamadou, like several musicians from Mali, comes from a distinguished famiy of jelis (breed of musicians). He was born in 1975 in Kita city and his father, who played kora in the Instrumental Ensemble of Mail, taught him how to play the instrument, and from there he listened and watched and devoted himself to practising the kora, to the point that his mother worried he was not concentrating enough on school.
Before long, Mamdou left school and began playing kora for local jeli singers, and travelling throughout the region to play at the ceremonies where modern jelis ply their trade, mostly weddings and baptisms. When he was fifteen, Mamadou won first prize for his kora playing in a regional competition and instantly became something of a local celebrity. The next year, he went to Bamako, and under the tutelage of his famous kora playing cousin, Toumani Diabaté, he worked the jeli circuit, backing singers at neighbourhood weddings and baptisms and entertaining the powerful at the city's posh Amitié Hotel.
In 1996, a touring group from the Instrumental Ensemble of Mali offered Mamadou the chance to travel to the United States with a group of Manding musicians and cultural authorities. Following a successful tour, Mamadou decided to continue his work in the United States and, since then, has made his home in New York.
Mamadou gets frequent invitations to perform with visiting Malian starts including Ami Koita, Tat Bambo Kouyate, Kandia Kouyate and Babani Koné. He has performed at the United Nations, Lincoln Center, the Metropolitan Museum and at the Smithsonian Institute in Washington. In addition, he has delved into uncharted waters, jamming with all manner of expert musicians, including jazz luminaries Donald Byrd and Randy Weston, legend Thomas Mapfumo, and blues masters Eric Bibb and Guy Davis. Mamadou's recording credits have expanded as he has laid tracks with artists ranging from Irish soloist Susan McKeown, jazz bassist Ben Allison and Benin's celebrated Angélique Kidjo.
*
The Love Music Festival artists are: Jonny Axelsson (Sweden) | Pascal Ayerbe (France) | Creaking Tree String Quartet (Canada) | Eva Quartet (Bulgaria) | Huun Huur Tu (Tuva) | Kolektif Istanbul (Turkey) | Kora Master (West Africa) | Oren Marshall & The Charming Transport Band (UK) | The Petebox (UK) | Sväng (Finland).
More info: www.lovemusicfestival.com