photograph © Rob McDougall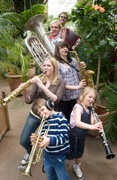 Love Music Festival is the first ever international music festival of its kind for children and young people aged 4 - 18, bringing some of the best musicians in the world and a huge variety of music from across the globe to Scotland this winter.
The 4 - 7 year olds will make instruments and enjoy Trio for a Green Pea, a special music theatre-work from France, while the older age groups explore and enjoy a rootsy bluegrass string quartet from Canada, a jazz and funk-infused Balkan ensemble from Turkey, extraordinary Mongolian throat singers and much more.
As well as hearing a lot of music probably never heard before, students can get hands on too with Love Music Festival's fully interactive website, the pre-festival creative workshops in schools and festival sound installations in Woodend Barn.
Artists include Jonny Axelsson (Sweden), Pascal Ayerbe (France), Creaking Tree String Quartet (Canada), Eva Quartet (Bulgaria), Huun Huur Tu (Tuva), Kolektif Istanbul (Turkey), Kora Master (West Africa), Oren Marshall & The Charming Transport Band (UK) and Svang (Finland).
For further info or to get involved, please email
or visit www.lovemusicfestival.com.
2010-11-09T10:00
Tuesday 9 November - Friday 12 November 2010
Woodend Barn, Burn O'Bennie, Banchory, AB31 5QA
Ticket Prices: Open to nurseries, primaries and academies only. To book, please contact joanna@woodendbarn.co.uk



In association with
Love Music Festival
and
Woodend Barn
, with the support of
Aberdeenshire Council
and
Creative Scotland