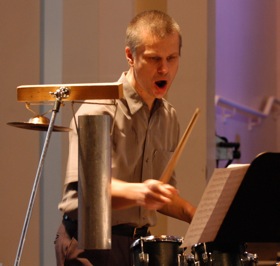 Jonny Axelsson
Jonny Axelsson has achieved great recognition worldwide and has been praised by music critics for the depth and dimensions in his interpretations. Andrew Clements in The Guardian wrote: "There is nothing flamboyant or fussy about Axelsson, he just goes about his tasks with dazzling musicianship.", and Roger Thomas in The International Record Review: "Axelsson's playing is fluid, organic and highly textured - in short, simply superbly musical."
During the studies his choice to focus on Chamber music and as a soloist became obvious to him, and it laid the foundation for the personal and distinctive attitude his musicianship stands for today. In 2004 he received the "Swedish Composers Association's Interpretation Award" with the following commendation: "With a tremendously good spirit and outstanding musicality he has found a place in our hearts and remained there."
His concert activities include solo performances all over the World, many at leading international festivals and at venues that spans from the Wigmore Hall in London to the Gobi desert in Mongolia. Jonny Axelsson is featured on numerous CDs as a soloist and chamber musician. His solo CD "Percussione Con Forza" was chosen by the International Record Review as "the best contemporary music CD of the year 2000".
*
The Love Music Festival artists are: Jonny Axelsson (Sweden) | Pascal Ayerbe (France) | Creaking Tree String Quartet (Canada) | Eva Quartet (Bulgaria) | Huun Huur Tu (Tuva) | Kolektif Istanbul (Turkey) | Kora Master (West Africa) | Oren Marshall & The Charming Transport Band (UK) | The Petebox (UK) | Sväng (Finland).
More info: www.lovemusicfestival.com