photograph © Chris Christodoulou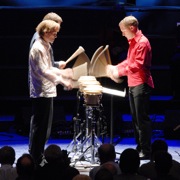 Programme:
Colin Currie leads this dynamic group of virtuoso young percussionists combined with Synergy Vocals to perform Reich's iconic masterpiece Drumming. Inspired by Reich's studies in Ghana with master drummer Gideon Alorwoyie, it is a transcendent and dramatic tapestry of pounding bongo drums, mesmerising marimbas, glassy glockenspiels and women's voices, with an irresistible sense of momentum. Colin Currie's performances have led a new generation to rediscover this staggering masterwork.
The group first performed at the BBC Proms and have recently given sell-out performances in London, Birmingham and Perth, and will tour more widely in 2011 and beyond.
The Line up for this performance is as follows:
Tony Bedewi
Richard Benjafield
Joby Burgess
Heather Cairncross (Synergy Vocals)
Adam Clifford
Andrew Cottee
Owen Gunnell
Micaela Haslam (Synergy Vocals)
Adrian Spillett
Rowland Sutherland
Sam Walton
A wholly different - and staggering - musical experience. Colin Currie put together an elite team and led them in a stunning, dramatic version of Drumming.
The Herald
2010-10-23T19:30
Saturday 23 October 2010, 7.30 pm
Johnston Hall, Crombie-Johnston Hall, University of Aberdeen, High Street, Aberdeen, AB24 3FX
Ticket Prices: £10, £8 conc, £2 students, jobseekers and under 18 <book here> <pre-concert talk info>

In association with the
University of Aberdeen
Also see:
read a related article in The Herald
Also see:
read a review of this event in The Herald
Also see:
read an interview with Colin Currie
Also see:
Less is More