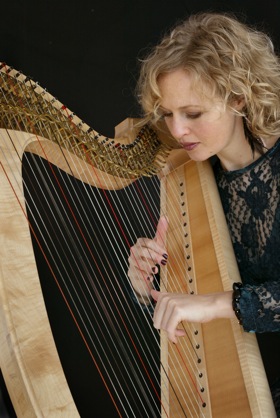 Ruth Wall
Scottish harpist Ruth Wall specializes in the development and performance of new music. She performs on lever harp, buzzing Renaissance bray harp, Gaelic wire strung harp and concert harp and often uses live electronics in performance.
She performs as a soloist and in chamber ensembles as well as collaborating with other musicians, artists and dancers on new commissions. Recent performances include those at Kings Place, Monza Milan, Spiral Hall Tokyo, Liquid Rooms Edinburgh, The Sage Gateshead and Union Chapel in London. She has worked with many ensemblessuch as Three Strange Angels, New Noise, Regular Music, Fitkin, BBC concert orchestra.
Ruth has won several prizes including the John Ireland Prize and the Laurence Davies Memorial Award. She has worked alongside several celebrated British composers such as Howard Skempton, Laurence Crane, Gabriel Jackson and Peter Maxwell Davies, building up a repertoire of new works for the lever harp. Her first solo album The Uncommon Harp was released in December 2004.
Ruth composes and performs her own works on harp - broadcasts include Radio 3 commission Packet of Seeds and Radio 4 Classic Serial. She has worked with theatre director Cal McCrystal and in 2003 wrote the music for a new film The Freak which won Best Silent Film prize in the First Light Film awards. Away from the harp she has composed for the BBC Singers, the Philharmonia Orchestra and the Cheltenham and Spitalfields Festivals and worked as a presenter on BBC Radio 3.
In 2007 the new Fitkin Wall CD Still Warm was released. Ruth toured Still Warm with composer/pianist Graham Fitkin and visual artist Nick Corrigan in Italy and throughout the UK.
In 2007/8 Ruth recorded and toured Europe, USA and Australia playing harps and keyboard with Goldfrapp on the Seventh Tree tour, performed at the Jerwood Opera Writing Programme in Aldeburgh and collaborated with pianist Sarah Nicolls on an improvisation project involving prepared harps, piano and live electronics. She also toured a new solo programme of works for wire and lever harps in Sweden. In 2009 she worked with Pharoes musicianTeitur on Nolwenn Leroy's new album Le Cheshire Cat e moi. She joined Joby Burgess's New Noise in their Cardew project She collaborated with visual artist Alessandra Ausenda on a major new art/sound installation involving a huge dress, a battery of sewing machines and live sewing machinists.
Projects in 2010/11 see Ruth touring and recording on bray and lever harps with Fitkin, a new ensemble for 9 musicians playing high energy, multi rhythmic works as well as working on her latest album /touring project involving new collaborations with celebrated UK artists and musicians. She is also performing in UK and USA a new score by Adrian Utley and Will Gregory for mixed ensemble to accompany Dreyer's classic 1928 silent film, the Passion of Joan of Arc.
*
The Graham Fitkin Ensemble are: Simon Haram - soprano/alto saxes +ewi | Nick Moss -sop/alto/tenor saxes + bass clarinet | Noel Langley - trumpets, flugel horn | Adrian Spillett - percussion, vibraphone, drums | Joby Burgess - percussion, marimba, drums | Graham Fitkin - piano | Alan Thomas - guitars, mandolin | Ruth Wall - wire strung, bray and lever harps | John Lunn - bass