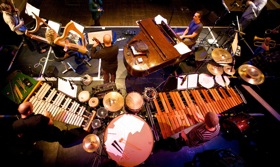 A brilliant evening of non-stop music from Fitkin with a virtuoso line-up featuring some of the best musicians working in Britain today. Vibrant sounds, pulsating rhythms, with a hint of jazz and minimalism from this amazing new nine-piece band of trumpet, saxes, percussion, guitar, harps and bass. A rare opportunity to catch this ensemble live on their UK tour!
Music is 100% Fitkin and will include brand new works and 2010 favourites: Loudish, Soft Wac, Danse Real, Totti, Mistaken Identity and Vamp.
Graham brings together a great line up of musicians whom he has worked with in the past - all of them having worked as soloists and in ensembles (BBC Phil, Nyman Band, Powerplant, London Sinfonietta) as well as in collaborations with artists including Portishead, John Patittucci, Johnny Dankworth, Goldfrapp, Stewart Copeland.
The line up is as follows - 3 plucked, 3 blowing, 3 percussive.
Aidy Spillett - percussion
Joby Burgess - percussion
Graham Fitkin - piano
Nick Moss - saxophones and bass clarinet
Simon Haram - saxophones
Noel Langley - trumpet
Alan Thomas - guitar
John Lunn - bass
Ruth Wall - harps
Fitkin … is one of the most important of our younger composers, and both the programme and the method of presentation for his own ensemble seemed designed to get away from received notions of classical music as stuffy or un-cool.
The Independent
2010-10-21T19:30
Thursday 21 October 2010, 7.30 pm
The Lemon Tree, 5 West North Street, Aberdeen, AB24 5AT
Ticket Prices: £10, £8 conc, £2 students, jobseekers and under 18 <book here>