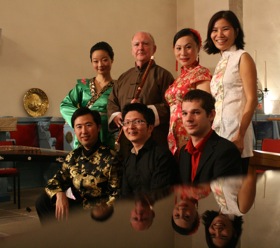 CHINESE MUSIC - through its instruments, songs and creativity.
In preparation for the Harmony Ensemble concert, three members of the group will give a seminar exploring instruments, songs and composition in China.
Eddie McGuire will talk on and demonstrate some of China's unique instruments. He plays bamboo flute in the group and is well known as a composer. He won a Creative Scotland Award in 2004 which led to a ballet uniting Harmony and Whistlebinkies (he toured China with them in 1991).
Kimho Ip will focus on how composing developed in China over the last 100 years looking at the Western influence, Shanghai Jazz and trends in the past 30 years. He gained a Doctorate in composition at Edinburgh University and his works have been broadcast on BBC Radio 3 and widely performed.
Fong Liu will demonstrate and explain the spectrum of singing styles found in China ranging from folk song to regional style and opera traditions. She is much in demand throughout Britain for her performances of Chinese song and inherited much from her father who sung in traditional opera.
2009-10-30T12:00
Friday 30 October 2009, 12 noon - 1.30 pm
MacRobert Building, University of Aberdeen, King Street, Aberdeen
Tickets: Free

Promoter:
University of Aberdeen