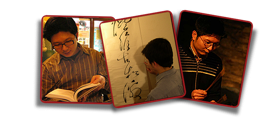 Kimho Ip
Originally from Hong Kong, Kimho Ip currently works as composer, director, producer and yangchin performer. He studied music in Germany and Scotland and received his PhD in 2004 from the University of Edinburgh. He is the artistic director of the Inter-cultural Music and Arts Project (iMAP), and with the iMAP ensemble he was invited to perform at the South Bank Centre, ROH2, London, and for the Silk Screen (2008) event by the BBC, and the Dutch Radio in Amsterdam. His debut CD album, "Runaway Horses" for soprano saxophone by Filip Davidse and yangchin, has been successfully launched in Amsterdam and Edinburgh in 2008.
Kimho is supported by the Scottish Arts Council to develop new music initiatives and educational projects. From 2005-07 he was artist-in-residence under their Partner's scheme, during which time he was commissioned to create the conceptual platform "Cathay House Blend" at the National Museum of Scotland and the multi-media work "Tea with Mahler". For the major touring film festival Cinema China 2007, he composed a soundtrack for the classic Chinese silent film, Goddess, which was screened at BFI in 2008. Also in 2008, he was the creative producer for the major site-specific piece "Dialogues of Wind and Bamboo" at the Royal Botanic Gardens, Edinburgh. In 2009, he is music teacher at the Confucius Institute in the University of Edinburgh.
His orchestral and chamber works have been featured at the ISCM World New Music Days (2002/ 2007), the Edinburgh International Festival (2005) and the Gaudeamus, Amsterdam (2006). Ensembles that have performed his works include the Edinburgh String Quartet, Shanghai New Ensemble, BBC Scottish Symphony Orchestra, Scottish Philharmonic, Hong Kong Chinese Orchestra and Hong Kong Sinfonietta. In April 2008 he was commissioned by China Town Arts Space for the Royal Opera House Linbury Theatre, to compose and perform a new soundtrack to the silent film "Song of the Fishermen", which will be toured to the Decibel 2009.