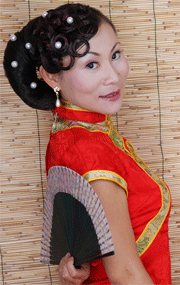 Fong Liu
Fong is a professional Chinese singer and voice over artist. She gives performances, Chinese arts workshops and presentations in the UK. Fong is from Suzhou in the Jiangsu province of China. She was taught to sing by her father, an accomplished singer of Peking Opera. Fong first performed in her home town at the age of five.
After studying Chinese language and literature at Suzhou University she spent a brief period as an advertisement designer before launching her singing career. Ten years later, she is welcomed internationally and has been acclaimed during residences in China, India and, since 2006, Great Britain.
Fong sings Chinese folk, Peking Opera, Chinese Jazz and modern Chinese pop. Her ability to adapt her voice to many styles from China makes her a unique and special performer. Her performances in festivals, her concerts and recordings surprise and delight. Since 2007 she has enjoyed singing with the Harmony Chinese Music Ensemble specialist exponents of Chinese music.