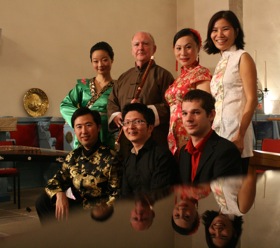 Chinese Music: traditional and new
from The Harmony Ensemble & Elphinstone Fiddlers
Since their founding in 2002, the Harmony Ensemble have been invited to perform at the BBC 'Silk Screens', Celtic Connections, music clubs, festivals and The Fringe as well as a full concert with the Scottish Philharmonic Orchestra.
Harmony enthrals audiences with its wide ranging repertoire of folk music, song and dance from different ethnic groups in China. Tonight's programme will include improvisation on Chinese instruments and compositions by Kimho Ip and Eddie McGuire.
Hooi Ling Eng, percussion and zheng (zither); Cheng-Ying Chuang, counter tenor voice, ruan (moon guitar); Kimho Ip, yangqin (hammered dulcimer), Fong Liu (voice); Eddie McGuire, di-zi (bamboo flute); Willem Mathlener, violin.
2009-10-31T17:00
Saturday 31 October 2009, 5.00 pm
Zeste, Crombie Hall, University of Aberdeen, High Street, Aberdeen
Tickets: £8, £5 conc, £2 student and under 18

Promoter:
University of Aberdeen
Follow this link to
read a review of this event.