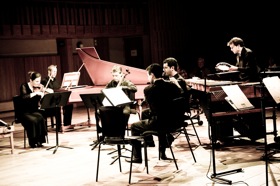 Hebrides Ensemble
Since 1991 the Edinburgh-based Hebrides Ensemble has built a reputation as Scotland's foremost chamber group, specialising in the performance of new and twentieth century chamber music, music theatre and chamber opera. Its nomination and short-listing in the Chamber Music category in the 2009 Royal Philharmonic Society Awards confirms the group's success.
Led by its artistic director, the cellist and conductor William Conway, and drawing upon the finest musicians within Scotland and Europe, Hebrides tours frequently, appears at international music festivals and broadcasts and records regularly. Its concerts are acclaimed for their imaginative and innovative programming and for the outstanding quality of performance.
William Conway - Artistic Director, Cellist
William Conway was born in Glasgow and studied at both the Royal Scottish Academy of Music and Drama and the Royal College of Music where he was a prodigious prizewinner. He is principal cellist of the Chamber Orchestra of Europe and for ten years held the same position with the Scottish Chamber Orchestra, performing regularly as soloist and director.
He is co-founder and Artistic Director of Hebrides Ensemble where he combines playing and conducting and has commissioned over sixty new works in the last nineteen years. William has been presented with a Scottish Society of Composers Award for "an outstanding contribution to the promotion of contemporary music".
He plays on a cello from 1695 by Giovanni Tononi of Bologna.
Alexander Janiczek - Violin 1
Alexander Janiczek is highly sought after as a director, soloist, guest leader and chamber musician. He established a close relationship with the Scottish Chamber Orchestra as its leader from 1999-2002 and has since been invited back as director and soloist on numerous tours throughout Scotland and Europe. He is also a regular guest director with the Chamber Orchestra of Europe (with whom he has toured extensively throughout Europe and the Far East) and has recently directed the Orchestra I Pomeriggi Musicali of Milan and the Swedish Chamber Orchestra.
Alexander Janiczek plays the 'Baron Oppenheim' Stradivarius from 1716, which is on loan to him from the National Bank of Austria.
Sarah Bevan-Baker - Violin 2
Sarah Bevan-Baker was born in Aberdeen and grew up on the Black Isle and in Glasgow. She studied violin at the Royal College of Music with Frances Mason winning several chamber music prizes and the Leonard Hirsch Prize "for an outstanding performance at the Diploma recitals".
Since then she has been a member of the Chamber Orchestra of Europe, the Scottish Chamber Orchestra and several chamber ensembles.
She currently freelances, enjoying a wide variety of music ranging from baroque (she plays regularly with Dunedin Consort and Players and Concerto Caledonia, Scotland's baroque chamber ensemble) to orchestral work to contemporary music with Hebrides Ensemble.
Catherine Marwood - Viola
Catherine Marwood studied at the Royal Academy Of Music and spent the following nine years playing with the Fairfield String Quartet with whom she toured Europe and recorded for the Hyperion label. In 1988 she was appointed principal viola with Scottish Chamber Orchestra, a position she held for ten years.
She has appeared many times as soloist with the orchestra collaborating with such artists as Joseph Swensen, Yuri Bashmet and Ernst Kovacic and in the SCO's chamber series she worked with Michael Collins, Stephen Isserlis, Peter Donohoe and many others. She also premiered and recorded Sir Peter Maxwell Davies Strathclyde concerto no 5. Catherine has also appeared as soloist with a number of other orchestras including the BBC National Orchestra of Wales.
She is principal viola in the Scottish Ensemble who have recorded under the prestigious Wigmore Live label and frequently broadcast on Radio 3, is the violist of the Hebrides Ensemble and is in frequent demand from orchestras and chamber groups around the country. She teaches at the Royal Scottish Academy of Music.
Philip Moore - Piano
Philip Moore studied at London's Royal Academy of Music with Hamish Milne, during which time he won many prizes. Upon leaving he was awarded the Meaker Fellowship, and was appointed an Associate of the RAM in 2003. In 2004 he became a Steinway Artist. He has performed in the United States, Canada, Korea, Germany, France, Italy, Spain, the Netherlands, Belgium, Luxembourg, Sweden, Switzerland, Ireland, Tunisia, and at all of the major UK venues. He has recorded for radio and television throughout Europe and appeared as a concerto artist with, among others, the Philharmonia Orchestra, Royal Philharmonic Orchestra, BBC Scottish Symphony Orchestra, Academy of St. Martin in the Fields and ViVA.
Philip's piano duo with Simon Crawford-Phillips has won international prizes and awards, including a Borletti-Buitoni Trust Fellowship in 2004. The Duo has performed and broadcast internationally, and at major UK festivals such as Edinburgh, Aldeburgh, City of London, Brighton and Bath; and made frequent appearances as concerto artists and recitalists at the South Bank and Wigmore Hall. In 2008 they gave the world premiere of Detlev Glanert's Two Piano Concerto with BBCSSO/Martyn Brabbins.
Yann Ghiro - Clarinet
Yann Ghiro was born in 1971 in Nice and began clarinet lessons at the age of eleven. After studying for six years at the Paris Conservatoire where he gained first prize in clarinet and bass clarinet Yann furthered his studies at the Julliard School of Music in New York graduating in 1996 with his masters degree. On his return to France he became principal bass clarinet in the Pasdeloup Orchestra in Paris whilst also appearing regularly with Paris opera, Orchestre de Paris, Ensemble Intercontemporain and the Strasbourg Philharmonic Orchestra. Since 1998 Yann has been living in Scotland where he is currently the principal clarinet in the BBC Scottish Symphony Orchestra. He often performs with the Scottish Chamber Orchestra as guest principal and is a teacher at the RSAMD.
Stefan Schilli - Oboe
Stefan Schilli was born in Offenburg in 1970 and studied at the Trossinger Musikhochschule and in Karlsruhe, also taking lessons with Maurice Bourge. In 1990/91 he was principal oboist in Freiburg and has held a similar position since then with the Bavarian Radio Symphony Orchestra. In 1992, as a member of the Avalon Wind Quintet, he won the chamber music section of the German Music Competition and in the following year won the oboe prize.
In 1996 he took first prize in the Prague Spring Competition and in September in the Munich ARD Competition. In October of the same year he was awarded the Busch Brothers Prize, an annual award for an outstanding and promising German artist. Stefan Schilli has recorded for Naxos since 1992 and is a regular guest performer with the Cologne Chamber Orchestra