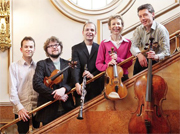 Hebrides Ensemble
Since 1991 the Edinburgh-based Hebrides Ensemble has built a reputation as Scotland's foremost chamber group, specialising in the performance of new and twentieth century chamber music, music theatre and chamber opera.
Led by its artistic director, the cellist and conductor William Conway, and drawing upon the finest musicians within Scotland and Europe, Hebrides tours frequently, appears at international music festivals and broadcasts and records regularly. Its concerts are acclaimed for their imaginative and innovative programming and for the outstanding quality of performance.
The Ensemble made its Wigmore Hall debut in May 2008, and festival appearances include regular performances at the Edinburgh International Festival, the Huddersfield Contemporary Music Festival and the St Magnus Festival on Orkney. The Ensemble has commissioned and premiered new works by more than fifty composers including Sir Peter Maxwell Davies, Gordon McPherson, Stuar MacRae, Haflidi Hallgrimsson, Sally Beamish and Nigel Osborne, and performs a celebrated series of concerts and composition workshops each year at the Royal Scottish Academy of Music and Drama in Glasgow and at Edinburgh University. As well as chamber music, the Ensemble commissions and performs new music theatre and chamber opera, including works by Sir Peter Maxwell Davies, Lyell Cresswell and David Fennessy.
The Ensemble's recording of Messiaen Chamber Works, including the Quartet for the End of Time, was released on Linn Records in May 2008 to the highest critical acclaim.