photograph © Caroline Michael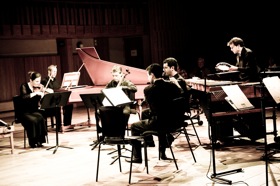 Hebrides Ensemble
with Colin Currie, percussion and Michael Popper, dance/choreography
Programme:
Peter Maxwell Davies Renaissance Dances
Harrison Birtwistle Axe Manual
Thomas Adès Court Studies
Peter Maxell Davies Vesalii Icones, with new choreography by Michael Popper
An exciting programme combining music which takes its inspiration from Renaissance times written by three of the most acclaimed British composers writing today.
Sir Peter Maxwell Davies bookends this programme with his wonderfully colourful transcriptions of well-known Scottish Renaissance Dances as well as his famous Vesalii icones (1969) - part-ballet, part-chamber music, part-performance art piece for solo dancer (Michael Popper), cello, and instrumental ensemble which draws on De Humani corporis fabrica, the groundbreaking illustrated guide to human anatomy by the Renaissance Belgian physiologist Andreas Vesalius. Davies associated these figures with the so-called "stations of the cross," the various events leading up to and including Christ's crucifixion.
The programme also includes a virtuosic tour-de-force for percussion with guest artist Colin Currie and piano written by Max's contemporary Sir Harrison Birtwistle. This trio of outstanding British composers is completed with a work by Thomas Adès taken from his highly-acclaimed opera based on the Renaissance, Shakespearian tale - The Tempest.
… confirmed its reputation as Scotland's finest contemporary group. Fluency, technical brilliance and a sense of the personal and the epic characterised the performance.
The Daily Telegraph
Vesalii Icones Preview Podcast by Hebrides Ensemble
2010-11-06T20:00
Saturday 6 November 2010, 8.00 pm
Woodend Barn, Burn O'Bennie, Banchory, AB31 5QA
Ticket Prices: £10, £8 conc, £2 students, under 18 and jobseekers <book here>

In association with
DanceLive
Also see:
read a related article in The Herald
Also see:
read an interview with Colin Currie
Also see:
DanceLive @ sound
and
www.dancelive.org.uk