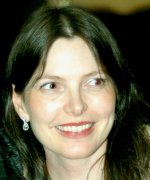 Catriona Yule
Catriona Yule is an Aberdeen poet, short story writer and playwright.
Her first full length play Birdhouse was staged at the Lemon Tree in February 2009. She has also written two one-act plays. Two Seconds was performed during Wordfringe 2008, and Kitten Heels was given a rehearsed reading at Aberdeen Arts Centre in 2005.
Her first poetry collection Shedding Skin was launched by Koo Press in 2007, and her poems have been published in many other publications. Her short stories have appeared in Pushing Out the Boat and The Eildon Tree.