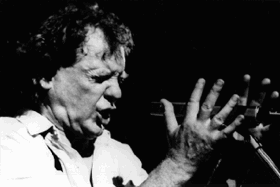 Phil Minton
Phil Minton, Born in Torquay, UK in 1940, both his parents were singers. He learnt tumpet from age 15 and played and sung with local jazz groups, moving to London in '63 to play with Mike Westbrook. From the mid '60s he worked in dance bands in the UK, Canary Islands and Sweden. Rejoining Westbrook in '72 he was a regular member of his Brass Band untill '84, playing trumpet and singing extensively in Europe, the USA and beyond.
Thru the last 30 years he's worked mainly as a improvising singer and sung with most of the worlds leading improvising musicians as well as been a guest singer for many composers music. He collaborated with pianist Veryan Weston on compositions such as "Songs from a Prison Diary" and is currently a member of improvising groups TooT, No Walls and Axon, he also has a quartet with Veryan, John Butcher, and Roger Turner.
He was a Nesta awardee in 2005 and in the last 15 years has traveled to many countries with his "Feral Choir", a workshop and concert for all people who want to sing.