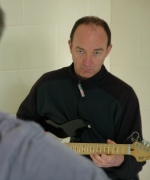 Mike Gosling
Mike Gosling is an experimental musician who has contributed songs and instrumental music to theatre pieces as well as writing and playing guitar in various folk and rock bands.
He has written music for the Third Theatre productions of Man Of Straw, Dispossessed, Guernica and Material Accounted For. This music drew on a wide range of world music influences with much of the music being created by improvisation.
He has also created ambient music with his group Conference of Birds. This music was based on drone-based improvisations and spoken word samples. This was released on the Evensong label, which Mike set up in 1999. Evensong also ran a recording studio and promoted various left-field acts including Mila Drumke, who performed her first tour of the UK with the Evensong label.
As well as performing in the Prometheus project, Mike is currently writing and recording songs for his band, The Brink.