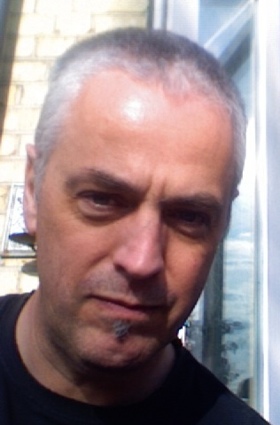 Richard Barrett
Richard Barrett, born in Swansea in 1959, studied composition principally with Peter Wiegold. His compositions have won the Kranichsteiner Musikpreis (1986), Gaudeamusprijs (1989) and the British Composer Award for chamber music (2003). He taught electronic composition and performance in the Institute of Sonology in The Hague from 1996 to 2001; during 2001-02 he was a guest of the DAAD Berlin Artists' Programme, remaining in Berlin until 2006 when he became a professor at Brunel University. Within this role he teaches composition at postgraduate levels and with Peter Wiegold, he hosts a series of post-graduate seminars and lectures including visiting guest artists; specialists in their fields, such as composer Jonathan Harvey, David Chatterton, RPO contra-bassoon, Carl Rosman (clarinet) and Mark Knoop (piano) (2007 seminar series).
Richard Barrett's work encompasses both composition and improvisation, ranging from chamber music to innovative uses of live electronics and collaborations with visual artists. Recent projects include NO, commissioned by the BBC Symphony Orchestra and premiered in February 2005 at the Barbican Hall in London, conducted by Tadaaki Otaka, and the ensemble pieces Melos and Island, both premiered by Elision in November 2006 and both part of CONSTRUCTION, a two-hour work for voices, ensemble and electronics commissioned by Liverpool Cultural Capital to be premiered complete in 2008.
Richard Barrett also continues his twenty-year collaboration with Paul Obermayer in the electronic duo FURT and performs regularly with vocalist Ute Wassermann, saxophonist Evan Parker, bassist Adam Linson, cellist Arne Deforce and numerous ensembles from both compositional and improvisational areas, including the vocal/instrumental/electronic octet fORCH, which gave its first performances in Germany and Switzerland in late 2005. His work as composer and performer is documented on over 20 CDs, including four discs devoted to his compositions and four by FURT.