press reviews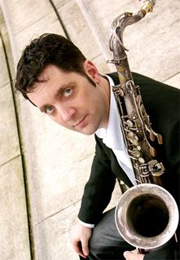 Saxophonist Andy Scott
New sounds on the block
Written by Caroline Brodie, The Press and Journal
reproduced with permission
Music sure to soothe the soul will be on offer at the north-east's very own Sound Festival this year, with something to suit every musical penchant, writes Caroline Brodie.
CLASSICAL, jazz, traditional, rock – you name it, the Sound Festival has it, and will be bringing it to a venue near you in the very near future. The event, which runs from now until November 17, will celebrate all kinds of new music, with a special focus on the saxophone this year. Its dulcet tones will ring out across the Granite City during SaxFest, a four-day event especially dedicated to the instrument.
Andy Scot, one of the UK's leading saxophonists, is bringing his band SaxAssault to the city for the event, featuring nine of the UK's leading players on every size of sax from the sopranino through to the bass. Andy, who composes all the music to make the best of each player's talents, said it would be a great night of music taking in a host of genres. He said: "We have all the different sizes of saxophone within the band so it's a really visual thing. I write all the music for the group, so I know who I'm writing it for. We've got some really amazing players like John Helliwell, who was the saxophonist with Supertramp, and we have some really good improvisers." The band will take the stage at the Lemon Tree next Saturday, November 1.
Another highlight of SaxFest will be the Saxophone Open Rehearsal Day taking place at the Beach Ballroom between 10am and 4pm next Sunday, November 2. Saxophonists are being invited to go along and learn two new pieces of music composed by Andy and Charlotte Harding, which will be rehearsed during the day before a mass performance at 5pm. Andy said: "I think it will be amazing. We have no idea how many people will turn up or how the pieces will come together, but we hope there will be local saxophonists from all over the area. If we get 60, 70 or even 80 players, the sound will be amazing. But it is a short time to pull something like this together." Andy said players of all levels were welcome to take part in the free event.
There will also be a day of masterclasses and workshops for saxophone players at Aberdeen University's MacRobert Building next Saturday, November 1) between 10am and 4pm, with help on hand from players including Justin Brook, Garry Gibb, Rob Hall and Richard Ingham, as well as a host of other performances, talks and masterclasses from celebrated players.
Electro-acoustic music will also come under the spotlight during this year's festival, with a live set from Kim Cascone – the celebrated American composer whose career started out working with David Lynch on Twin Peaks – at the Lemon Tree on November 15. The evening of music will also feature slots from Darragh Morgan, Scott Wilson, Robert Scott Thompson and Erdem Helvacioglu.
On top of this, there will also be a series of classical world premieres including a new work from Thea Musgrave, who celebrates her 80th birthday this year, and a new work by Nicola Le Fanu performed by cellist Robin Michael and Silent Witness soprano Sarah Leonard. There will also be a host of performances from celebrated soloists and ensembles including Jane Irwin, appearing with the Hebrides Ensemble, violinist Tasmin Little, and the Canadian group Continuum. Performances will take place at venues as diverse as Portsoy Salmon Bothy, Duff House and King's College Chapel.
Now in its fourth year, the Sound Festival is Scotland's only festival dedicated to new music, and aims to make new and contemporary music more accessible to people of all ages and backgrounds. Festival co-ordinator Fiona Robertson said organisers were thrilled to be able to offer a showcase for some of the world's leading classical and electro-acoustic musicians and to celebrate the saxophone. She added: "It is a really nice, broad, balanced section of events this year."
Original article reproduced here with kind permission.