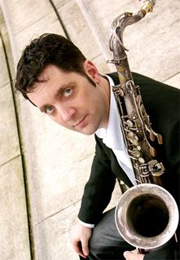 Saxophone Open Rehearsal Day
A day rehearsing works especially commissioned for this event by Andy Scott and Charlotte Harding. Saxophone players of all standards welcome to take part.
Event times: 10am - 4pm
If you would like to be kept up-to-date or to express advance interest in taking part in the saxophone workshop day on the 1st November and/or the rehearsal and performance day on the 2nd November, please fill in and return the downloadable form attached here or contact us with any further queries.
2008-11-02T10:00
Sunday 2 November 2008, 10.00 am
Beach Ballroom, The Esplanade, Aberdeen
Tickets: free. Prior booking advised by emailing sax@sound-scotland.co.uk
In association with Aberdeenshire Council, with funding from Aberdeen Endowments Trust and the Scottish Arts Council (Youth Music Initiative)