photograph © Michael Mitchell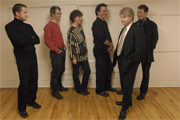 Programme:
James Rolfe (Can) - raW (solo drumset & small ensemble)
Ian Vine (UK) - Underpaintings (for cl, vn, vcl, pno)
Aaron Gervais (Can) - Community: - Normed - Call-and-Response Concerto - Jack-hammer Lullaby - Two-Chord Rondo (a lo cubano)
Followed by a talk & Q+A with the Canadian composer James Rolfe.
2008-11-14T12:45
Friday 14 November 2008, 12.45 pm
Cowdray Hall, Schoolhill, Aberdeen
Tickets: free (donations)

In association with Lunchbreaks at Cowdray Hall. Sponsored by Petro-Canada UK Ltd.