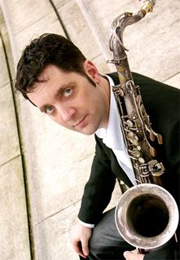 Andy Scott
Through his work with the Apollo Saxophone Quartet and other groups, Andy Scott has worked with many amazing musicians and composers throughout his career to date. Despite never having had any formal compositional training he has been at the cutting edge of contemporary classical music, absorbing, studying and playing music by todays leading composers. Therefore it is no surprise that Andy has developed a writing style that is a blend of jazz, funk and contemporary classical with an emphasis on strong lead lines and tunes! His music can be challenging at times, but it is always accessible, whether it is a roaring big band chart, an intimate classical chamber piece, or large scale ensemble work. He recently won a British Composers Award for his double saxophone concerto with wind band, "Dark Rain".
As well as being commissioned by leading performers, Andy writes for today's young musicians, and gives composition & improvisation workshops/masterclasses in schools, universities and music conservatories. He is also an extremely versatile saxophonist, performing contemporary music, jazz, funk and salsa, and free improvisations, creates new projects and is respected educator.
In March 2006 Andy performed "Concerto for Stan Getz" by Richard Rodney Bennett with the BBC Concert Orchestra as part of the composers 70th birthday concert at London's South Bank Centre, broadcast live by BBC Radio 3. As a founder member of the internationally renowned Apollo Saxophone Quartet, Andy has, since 1985, been involved in the commissioning of new music for saxophones, with over one hundred works to date, many of which are now standard saxophone quartet repertoire. The ASQ has recorded numerous CDs and regularly tours Europe and Japan. The Dave Hassell-Andy Scott Duo has performed in New York, Mexico and the UK. Their debut CD Sand Dancer is released on the Quartz label. SaxAssault (Andy's large ensemble) recently performed in a televised concert in Slovenia with the Yellowjackets & RTV Slovenia Big Band. SaxAssault's second CD, "Sax of Gold", with special guest Bob Mintzer is to be released in March 2007. As a soloist, Andy has premiered numerous works for tenor saxophone many written especially for him, and has just released a CD of music for tenor saxophone called "My Mountain Top".
He is Tutor of Saxophone at the Royal Northern College of Music, Saxophone Consultant at the Royal Welsh College of Music & Drama, Artistic Director of the Harrogate Saxophone Summer School and co-Artistic Director of the annual Royal Northern College of Music Saxophone Day. In 2004 he formed the World Tenor Saxophone Consortium. Andy Scott is a Selmer Paris Performing Artist. His compositions are published by Astute Music Ltd.