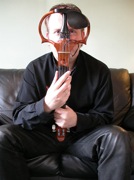 Steve Bingham
violin/electric violin/loops
Programme:
Max Beckshaeffer two movements from The Image of Melancholy for solo violin
Andrew Keeling You Cut The String for electric violin and loops
Dietze Stolpersteine for violin and bass pedals
Steve Bingham Duplicity for electric violin and delay
Philip Glass (arr. Bingham) Violin Concerto - slow movement
George Harrison (arr. Bingham) While My Guitar Gently Weeps for electric violin and looping
Yes (arr. Bingham) Owner of a Lonely Heart for solo violin
Steve Bingham Semi Improvised Looping Piece
The effect, if you will pardon the play on words, was electric.
South Wales Evening Post
2010-11-13T13:00
Saturday 13 November 2010, 1.00 pm
Aberdeen Art Gallery, Schoolhill, Aberdeen, AB10 1FQ
Ticket Prices: Free