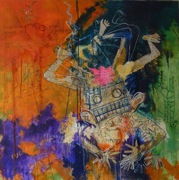 Jane FrereIn the Shadow of the Wall
In the shadow of the Wall is a result of having had the unusual experience of living for a short period behind the Israeli - Palestinian segregation wall. The work addressing the wall explores the emotional impact and drama that comes from the overwhelming sense it produces of claustrophobia and incarceration.
During the development of Return of the Soul www.alnakbah.net - 2007 to 2008, I was offered an artist's residency by Al Hoash gallery in East Jerusalem. The experience of witnessing the Israel occupation of the Palestinian territories first hand, combined with the time I spent in refugee camps across the region in Jordan and Lebanon, had a profound effect on me and has influenced my work as an artist ever since.

As a process of catharsis I began to address this unique experience through drawing and painting. I decided to create a series of works dedicated to the wall. Not representing the structure in an illustrative manner, but aiming to capture the emotional impact of the overwhelming feeling of claustrophobia and incarceration.

The aim of the art work, through colour, form, texture, graffiti and a random use of text is to try to capture what was often an adrenaline fuelled experience, acting as a witness on the periphery of one of the most contentious issues in the world today, the unresolved question of Israel / Palestine.
Jane Frere
2010-11-12T18:00
Friday 12 November 2010, 6.00 pm
Exhibition will run until Tuesday 30 November
Opening hours: Monday to Saturday 10am - 4pm , Sunday 1 - 4pm
Woodend Barn, Burn O'Bennie, Banchory, AB31 5QA
Ticket Prices: Free

Promoter:
Lang Byre Gallery
.