photograph © Malcolm Crowthers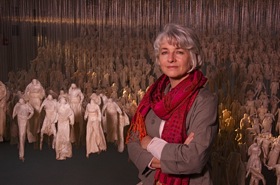 Jane Frere
After training in theatre design at Central St Martin's College of Art and Design, Scottish artist Jane Frere completed her postgraduate studies at the Slade School of Art in London, where she was awarded the Leslie Hurry prize. She has worked as a theatrical set and costume designer in the UK and in Greece.
As designer and producer, she first worked with Edinburgh doyen Richard Demarco before becoming an international theatre producer and manager where, over successive years, she brought a number of award-winning companies to the UK and festivals world- wide. Best remembered is internationally reknwoned Teatr Biuro Podrozy whose acclaimed performance Carmen Funebre went on to being performed in over 45 countries. On a number of occasions she worked in Iran and, in 2003, she produced the Edinburgh fringe show The Mute who was Dreamed by the Tehran - based Theatre Bazi.
Crossing and integrating disciplines, Jane's artistic work is experimental and uses a variety of media including 2d work, sculpture, sound and film. She became immersed in the theme of the Palestinian exodus - Al Nakbah - in 2004, leading to her first video installation in 2005 which was presented alongside performances by the Ramallah-based Al Kasabah Theatre during the Maski Festival in Poland in November 2006.
Return of The Soul was first opened in Al Hoash Gallery, Jerusalem in May 2008 before the Edinburgh Art Festival, it subsequently went on to Shams Theatre, Beirut and Darat Al Fanun where she opened alongside leading contemporary artist Mona Hartoum.
During the development of Return Of the Soul, Jane spent time living next to the Isreali segregation wall in a ghost suburb of Ramallah, the West Bank. Her current work addresses this period of living behind the wall.
More info: www.alnakbah.net