photograph © Eric Richmond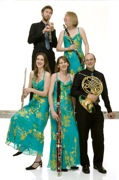 Programme:
Mozart Quintet in C minor
Ligeti Six Bagatelles
Hindemith Kleine Kammermusik
Nielsen Wind Quintet Op. 43
Arvo Pärt Quintettino
Paul Patterson Comedy for Five Winds
The Galliard Ensemble, a wind quintet, was formed at the Royal Academy in 1993. They are Kathryn Thomas, flute, Katherine Spencer, clarinet, Helen Simons, bassoon, Owen Dennis, oboe and Richard Bayliss, horn.
The quintet has performed extensively here and abroad and were the first wind quintet to be chosen by Radio 3 as 'Young Generation Artists.' They have played in the Proms Chamber Music Series, and at many festivals, and take great delight in playing contemporary music, including many new commissions.
Top calibre performers shining the beam of their musicality on an unequivocal masterpiece.
London Evening Express
pure pleasure… this, in short, is wind quintet playing of great distinction.
Gramophone Magazine
2010-11-08T19:30
Monday 8 November 2010, 7.30 pm
Cowdray Hall, Schoolhill, Aberdeen, AB10 1FQ
Ticket Prices: £10, £5 conc <book here>




In association with
Aberdeen Chamber Music Concerts
, with the support of
Enterprise Music Scotland
and
Aberdeen City Council
Also see:
read a review of this event