photograph © Eric Richmond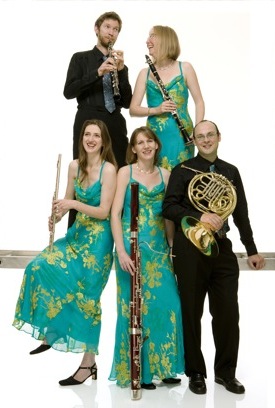 Galliard Ensemble
Following their membership of the BBC Radio 3's New Generation Artists scheme, the Galliard Ensemble has been firmly placed as one of Britain's leading chamber ensembles. Its energetic, highly entertaining and communicative performance style has wowed audiences both in Britain and abroad leading to critical acclaim. Commenting on the Galliard's most recent CD for the Deux Elles label, Michael Oliver wrote in Gramophone Magazine 'pure pleasure... This, in short is wind quintet playing of great distinction... From this admirably recorded disc you also get a very good idea of how enjoyable the Galliard's public concerts must be. Strongly recommended'.
The Galliard Ensemble was founded in 1993 when its members were students at the Royal Academy of Music, and has since won many major awards including the Maisie Lewis Young Artist Award, the BBC Radio 3 Young Artists Forum, and was selected for the Park Lane Group Series and Fresh Series at the Purcell Room. They play regularly in many of Britain's prestigious venues such as Wigmore Hall, South Bank Centre and Bridgewater Hall.
The Galliard Ensemble appears at festivals throughout Europe, having performed twice at the BBC Proms, Huddersfield Contemporary Music Festival, Bath, Brighton and Harrogate festivals, as well as the Mafra Festival for the British Council, the Castello Branco and Porto Festivals in Portugal.
The Galliard Ensemble has a strong interest in contemporary composition. In addition to working with Paul Patterson, Gyorgy Ligeti, Richard Rodney Bennett, they have also worked with Sir Harrison Birtwistle on his quintet Five Distances for their performance at the 1999 BBC Proms.
The Galliard Ensemble is committed to bringing music to a wider audience and has undertaken educational concerts with Live Music Now! and has enjoyed performing many school concerts, family concerts, workshops and demonstrations. The group's repertoire spans a wide range from Mozart and Beethoven to Berio and Schoenberg.
The ensemble continues to receive extensive coverage of their CD recordings nationally and internationally. In 2003 they followed up the commercial and critical success of Opus Number Zoo and Refrains and Choruses, which was selected by the Sunday Times, BBC Music Magazine, Gramophone, and BBC Radio 3 in their critics' choices of outstanding releases in 2001, with Light-Distance. This new recording features 20th century Portuguese chamber music for winds. As with each of their previous recordings, the new disc includes many first recordings and wherever possible the ensemble works with the composers on the performances. The CD was launched at the Purcell Room as part of the South Bank Centre's Atlantic Waves festival. The July 2004 edition of BBC Music Magazine included a cover CD of music by the Galliard Ensemble and a magazine interview.
2006 saw concerts in the Bridgewater Hall, Sage Gateshead and South Bank Centre plus a tour of Slovenia. 2007 included visits to the Newbury Spring and Lake District Summer Music festivals with a programme of masterclasses and lectures to the top British music academies plus a Purcell Room concert in conjunction with painter Ashley Davies. 2009 included a return to the Lake District and further workshops and performances in collaboration with Ashley Davies.
2010 will see the ensemble returning to the Presteigne Festival, among other engagements and undertaking a tour of Scotland.
Paul Patterson - Hornpipe from his Comedy for 5 Winds
audio clip included with kind permission
licenced by the MCPS-PRS Alliance for playback on www.sound-scotland.co.uk
Kathryn Thomas - Flute
Kathryn Thomas, selected by the Times as a 'Great British Hope', has established a reputation as a committed solo and chamber musician. She is a graduate of the Royal Academy of Music, and has been made an Associate of the Royal Academy of Music for distinction in the music profession. She regularly appears as a recitalist and chamber musician at venues such as the Wigmore Hall, the South Bank Centre, and the Bridgewater Hall, and at festivals including the BBC Proms, and is frequently broadcast on BBC Radio 3 and internationally. Kathryn has worked with a number of composers including Gyorgy Ligeti, Harrison Birtwistle, Richard Rodney Bennett, Paul Patterson, Dai Fujicura, Cecilia McDowall, and John McCabe. She has also performed with orchestras including the London Sinfonietta, Welsh National Opera and the New Queen's Hall Orchestra. Her concerto performances include works by Ibert, Honneger, Arnold, Bach, Rawsthorne, Mozart and Telemann.
Owen Dennis - Oboe
Owen Dennis read Mathematics at Corpus Christi College, Cambridge and graduated with a first class honours degree in 1995. He then studied at the Royal Academy of Music with Douglas Boyd and at the Rotterdam Conservatoire with Emanuel Abbuhl, winning the Leila Bull prize for oboe as well as the 1999 Royal Overseas League Wind Final. With the Galliard Ensemble, Owen has released many CD's including the first recording of Birtwistle's 'An Interrupted Endless Melody' for oboe and piano. As a BBC Radio 3 New Generation artist, Owen has performed the Mozart Sinfonia Concertante with the BBC Symphony Orchestra and numerous live broadcasts, in particular Britten's 'Metamorphoses after Ovid' for solo oboe in the BBC Proms. In addition to his chamber music, he freelances with the London Philharmonic Orchestra, the London Mozart Players and the London Sinfonietta and holds the Principal Oboe seat with English Touring Opera.
Katherine Spencer - Clarinet
Katherine Spencer made her concerto debut at the age of fourteen at the Royal Festival Hall and has since performed there as concerto soloist a further three times, has appeared as soloist at the Birmingham Symphony Hall, made a live Radio 3 broadcast from the Free Trade Hall, Manchester and performed many times on Classic FM and Hessiche Rundfunk. She has recorded the Brahms Sonata and Beethoven Trio for the Oxford Classic label with Sam Haywood and Martin Storey. Her prizes include 1997 Yamaha European Foundation award winner, prize winner in Concertina Praga competition which lead to tours of Austria, the former Yugoslavia and the Czech Republic and more recently she was awarded the Munster "Star Award" and was invited to join their recital scheme. As a chamber musician Katherine has performed Mozart with the Amadeus Quartet in the presence of HRH the Emperor of Japan. She has performed internationally with her ensemble "Ragnaroks".
Richard Bayliss - Horn
Richard studied the horn at the Royal Academy of Music with Derek Taylor and Andrew Clark. During this time he appeared as soloist with the RAM String Orchestra in Haydn's Concerto for two horns and Britten's Serenade for tenor, horn and strings. Richard has performed with many of the UK's leading Orchestras, including the Royal Philharmonic, and Ulster Orchestra, London Mozart Players, English Chamber and Scottish Chamber Orchestras, and as a natural horn player he has performed with the Gabrieli Consort, English Baroque Soloists, and London Handel Orchestra. His interest in Chamber Music has led to recent performances of Mozart Quintet for horn and strings, and the York Bowen Quintet, and performances and recordings with the Golden Section Brass Ensemble.
Helen Simons - Bassoon
Helen lived in Devon before moving to London to study at the Purcell School of Music. She continued her studies with scholarships to the Royal Academy of Music and the Hochschule fur Musik in Vienna, studying with John Orford, Rachel Gough, Milan Turkovic, and David Chatterton. After several years of freelancing with London's symphony and chamber orchestras, Helen took a position in the Royal Philharmonic Orchestra where she has been a member for 5 years. She continues to freelance with groups such as the English Chamber Orchestra and the London Sinfonietta alongside her positions in the orchestra, the Galliard Ensemble, and the chamber group Chroma. Helen also has an interest in education work, and is a member of the RPO education team, taking music into schools, hospitals, day centres and youth clubs. As a soloist Helen has performed several of the bassoon concertos, including 39 performances of the Mozart Concerto on a tour around France with the Junge Philharmonie Koln.