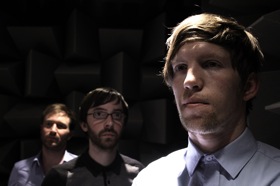 In their continued exploration of experimental pop music,
FOUND
has landed somewhere in between the wiry, electronic strains of Kraftwerk, the strident pop songs of Nirvana and the glitchy, schizoid sounds of Warp Records. One of the most innovative collectives in the UK, they will be supported by local indie visualists
Indian Red Lopez
.
The sound of a band fulfilling their potential, showcasing their work in a refined way and appealing to a broad church of listeners.
The Skinny
Scotland's strangest new band.
The Scotsman
2010-11-06T20:01
Saturday 6 November 2010, Doors open 8.00 pm
The Tunnels, Carnegie's Brae, Aberdeen, AB10 1BF
Ticket Prices: £6 in advance, £7 on door <book here>


Interesting Music Promotions
, with the support of the
PRS for Music Foundation
.