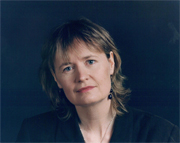 Acclaimed Scottish Conductor Garry Walker and celebrated composer Sally Beamish will run a free one-day workshop for local musicians on Sally's recent work for solo viola, string quartet, harp and string ensemble: Rhapsody on Themes from Hafez.
With: Rik Evans, viola
Sophie Crichton, harp
The Heller Quartet (Jean Fletcher and Guerra Maunder, violins, Sandra Thomson, viola and Gareth John, cello)

10.30 am - 4.30 pm
Workshop/rehearsal with Garry Walker and Sally Beamish with refreshment breaks. Please bring a packed lunch!
5 pm Informal performance
of Rhapsody on Themes from Hafez (Open to general public, admission free)
String players of all ages are invited to take part (some orchestral experience desirable). If you would like to be involved, please download an application form and reply before 15th October 2010.
2010-10-31T10:30
Sunday 31 October 2010, 10.30 am - 5.30 pm
Johnston Hall, Crombie-Johnston Hall, University of Aberdeen, High Street, Aberdeen, AB24 3FX
Ticket Prices: Free to both participants and audience <application form>
With the support of Aberdeen Endowments Trust, Aberdeen City Council and Vibrant Aberdeen, Aberdeenshire Council, Astor of Hever Trust, Creative Scotland, June and David Gordon Memorial Trust, Hugh Fraser Foundation, PRS for Music Foundation, RVW Trust and the University of Aberdeen.
Also see:
read a review of this event