photograph © Tas Kyprianou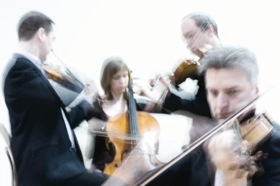 Programme:
Michael Nyman String Quartet No 3
Graham Fitkin Servant
Terry Riley Good Medicine
Admired for its versatility and dynamism, the Smith Quartet is now widely regarded as one of the finest contemporary string ensembles in the world. Recent best-selling discs of the quartet music of Steve Reich and Philip Glass have achieved instant critical acclaim, prompting many reviewers to recommend them as the benchmark recordings of these works.
The Smith Quartet are a virtuoso young group.
Financial Times
2010-10-23T13:00
Saturday 23 October 2010, 1.00 pm
Aberdeen Art Gallery, Schoolhill, Aberdeen, AB10 1FQ
Ticket Prices: Free
In association with Aberdeen Art Gallery and Lunchbreak Concerts at Cowdray Hall
Also see:
Less is More