photograph © Tas Kyprianou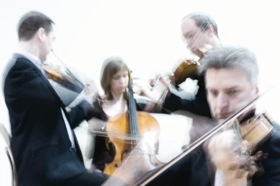 Programme:
Stephen Montague String Quartet No 1 In Memoriam
Gavin Bryars Sinking of the Titanic
Michael Gordon Potassium
Steve Reich Different Trains
Admired for its versatility and dynamism, the Smith Quartet is now widely regarded as one of the finest contemporary string ensembles in the world. Recent best-selling discs of the quartet music of Steve Reich and Philip Glass have achieved instant critical acclaim, prompting many reviewers to recommend them as the benchmark recordings of these works.
… beautifully clear, and played with a rather touching delicacy which brings out the subtle poetry of the ending.
BBC Music Magazine on Reich Different Trains CD
2010-10-22T19:30
Friday 22 October 2010, 7.30 pm
Johnston Hall, Crombie-Johnston Hall, University of Aberdeen, High Street, Aberdeen, AB24 3FX
Ticket Prices: £8, £5 conc, £2 students and under 18 <book here>

In association with the
University of Aberdeen
Also see:
read a review of this event
Also see:
Less is More