photograph © Tas Kyprianou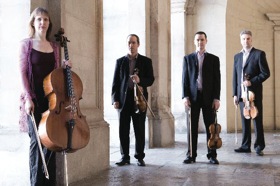 Programme:
Gavin Bryars String Quartet No 1, Between the National and the Bristol
Michael Nyman String Quartet No 2
Admired for its versatility and dynamism, the Smith Quartet is now widely regarded as one of the finest contemporary string ensembles in the world. Recent best-selling discs of the quartet music of Steve Reich and Philip Glass have achieved instant critical acclaim, prompting many reviewers to recommend them as the benchmark recordings of these works.
As versatile as the Kronos Quartet, and smoother than the Brodskys, The Smith Quartet have edged ahead of their competitors in contemporary chamber music.
The Independent On Sunday
2010-10-21T12:45
Thursday 21 October 2010, 12.45 pm
Cowdray Hall, Schoolhill, Aberdeen, AB10 1FQ
Ticket Prices: Free