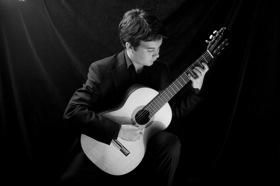 Ian Watt
Ian Watt, guitar, possessed a musicality and charisma - a temperament, even - that allows one to transcend the bonds of an instrumental community' - Soundboard (U.S.A)
Since making his recital debut at the North of East Scotland Classical Guitar Society's concert in November 2005, Ian Watt has given many recitals and solo appearances throughout the United Kingdom, in venues such as St John', Smith Square (London), the Queen Elizabeth Hall (South Bank Centre, London) and Glasgow Royal Concert Hall, as well as major cultural festivals including the Dundee Guitar Festival and the Aberdeen International Youth Festival. Outside of the United Kingdom, Ian has performed in the USA, China, France, Holland, Belgium and Norway.
Regularly appearing as a concerto soloist, Ian has recently performed with the Los Angeles Chamber Orchestra, the BBC Scottish Symphony Orchestra, the City of London Sinfonia and the Scottish Philharmonic Orchestra. In May 2009, he was awarded the silver medal at the Parkening International Guitar Competition in Malibu, at which he was the youngest competitor.
Ian's endeavours in the performance of contemporary music have included collaborations with Scottish composers John Mcleod, Gordon McPherson, Rory Boyle and John Maxwell Geddes. In March 2010, he premiered John Mcleod's Guitar Concerto, the composer's first work for the instrument, in Edinburgh. As well as solo performance, Ian retains a keen interest in chamber music, regularly performing with fellow guitarist Sean Shibe.
From 2003 - 2008, Ian Watt studied at Aberdeen City Music School. At present, he is a student at the Royal Scottish Academy of Music and Drama, where he studies with Allan Neave.
Important Awards: Silver Medal Parkening International Guitar Competition 2009, Finalist BBC Classical Star 2007, Aberdeen Young Musician of the Year 2007.
Time stopped in this interpretation and the concentration of young Ian Watt's guitar playing acted like a zoom lens on pain and reflection
The Herald
an eighteen year old phenomenon…possessed a musicality and charisma - a temperament, even - that allows one to transcend the bonds of an instrumental community.
Soundboard (U.S.A)
astoundingly atmospheric playing in Rodrigo's Concierto de Aranjuez…
The Herald
Flawless, passionate and driven, Watt was an inspiration for all the budding young musicians at the concert.
Aberdeen Press and Journal