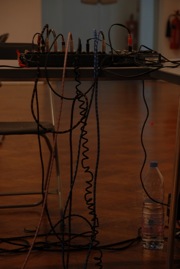 The Christmas slot in the main gallery space at Peacock is given this year to Creative Identities, to showcase all of the artworks and films made by the young people involved in Creative Identities projects in Aberdeen since June.
There will be an opening event, with performances of dance and live circuit bending from some of the young people starting at 1.30pm. We'd love you to come along and celebrate the young folks' achievements with us. It's a family friendly event, so bring everyone!
Exhibition runs: 28 November - 24 December 2009
Launch: 1-3pm, Saturday 28 November 2009
2009-11-28T13:00
Saturday 28 November 2009, 1.00 pm
Peacock Visual Arts, 21 Castle Street, Aberdeen
Tickets: Free.

In association with
Peacock Visual Arts
.