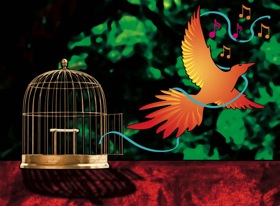 Giant, the Inclusive Theatre Specialists, join forces with acclaimed composer David Paul Jones, for a unique and innovative development in music theatre for all children aged 8 - 11 years and their families.
The Songbird follows the tale of an extraordinary exotic bird that is captured in the tranquil solitude of the forest by a ruthless logger who is captivated by her song. The logger takes the bird on a dangerous voyage across the ocean to the cut and thrust of the metropolis. The bird is put on the stage to sing, gloriously at first, and then searching and faltering, while the bird catcher revels in the limelight. Will the bird survive or will its song become a poignant memory of a lost world?
Using live music, a language of specially developed 'sound poetry' and Giant's interactive sensory performance techniques, The Songbird is a subtle story with a powerful emotional punch.
2009-11-21T11:00
Saturday 21 November 2009, 11.00 am
The Lemon Tree, 5 West North Street, Aberdeen
Tickets: £5 + booking fee




Promoter:
The Lemon Tree