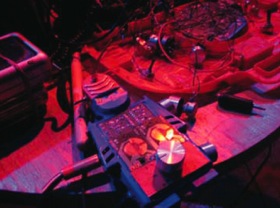 Music Workshops for young people!
Workshop 2: Age 13-17
This year during sound, sonic artists Claire Singer, Bill Thompson, Patrick Keenan and Ross Whyte, will collaborate with groups of young people from Aberdeen city in a series of exciting experimental music based workshops. Participants will have the chance to try their hand at circuit bending, take part in improv sessions, and create compositions based on sounds collected from found objects. The workshops are supported by Peacock Visual Arts and Creative Identities.
Workshop 2: Age 13-17
2009-10-15T10:00
2.5 days:
Thursday 15 October and Friday 16 October, 10.00 am - 4.00 pm
Saturday 17 October, 10.00 am - 4.00 pm
Peacock Visual Arts, 21 Castle Street, Aberdeen
Tickets: free. Booking is essential for these workshops are places are limited. To find out more and to book your places contact Peacock Visual Arts, tel: 01224 639539 or email: info@peacockvisualarts.co.uk
Snacks provided but bring a packed lunch.



For more details visit
www.peacockvisualarts.co.uk
Creative Identities is an 18 month programme funded by the Scottish Government's
Cashback for Communities
initiative. Using £1.2 million from the proceeds of crime it is managed in partnership with
Scottish Screen
and the
Scottish Arts Council
.