photograph © Platman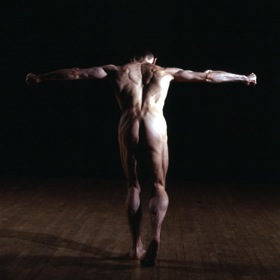 Michael Popper
Popper has a multi-faceted career creating and performing work in the worlds of music, theatre and dance. His choreographic and directorial work bears witness to his on-going thoughtful, passionate and playful interest in the breaking-down of barriers between the arts and has earned the endorsement of a wide range of fellow artists and intellectuals...and the occasional attention of the arts world's oligarchy. Popper has always seen performance as an opportunity to present and share real, intelligent and courageous experiment, and he remains one of the most un-predictable, provocative and engaging of artists.
As well as frequent solo and guest appearances, Popper's dance and dance-theatre performance work includes periods with Ballet Rambert, Second Stride and the Rosemary Butcher Company. He is still in demand as a soloist, and continues to develop "Correctospective": a growing collection of choreographic miniatures.
Popper has appeared as an actor and singer with companies including, La Compagnie Renaud-Barrault, Insomniac, Opera Holland Park, Opera Circus, The Lindsay Kemp Company and The Purcell Quartet.
Popper has choreographed and directed work for companies including Gateway To Freedom, MDT (The State Ballet of Ankara), Tanz Forum, The Icelandic Ballet, Scottish Dance Theatre (for whom he was Assistant Director 2004 - 2007), The Lyceum Edinburgh, The Royal National Theatre, The Royal Shakespeare Company, Welsh National Opera, De Vlaamse Opera, Schauspiel Bonn and the combined Opera and Dance Faculties of the Musikhochschule Köln.
Projects for 2009 include choreography for a new production of Arne's "Artaxerxes" for the Linbury, and featuring as the Singing Satyr in "The Death of Pentheus", a film-installation by the director Philip Haas.