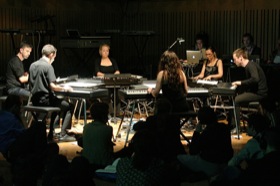 pianocircus
pianocircus formed in 1989 to play Steve Reich's Six Pianos, and has since created a repertoire of over one hundred works; the majority are written specially for the ensemble and include pieces by Kevin Volans, Graham Fitkin, Brian Eno, Louis Andriessen, Erkki-Sven Tüür, Terry Riley, Nikki Yeoh and Heiner Goebbels. pianocircus has released seven CDs with Decca and now has three CDs available on its own label.
The six pianists have a broad range of experience, from traditional western classical music to jazz, pop and rock, African and Asian traditional music, improvisation and composition. Between them the members of pianocircus work in collaboration with film and video makers, theatre and circus performers, dancers and choreographers, and in a variety of educational settings.
The group performs throughout the UK and internationally, with appearances at the South Bank Centre, London; Lincoln Center, New York; Huddersfield Contemporary Music Festival, Edinburgh Festival, Bath International Festival, the Big Chill Enchanted Garden Festival, the Hong Kong and Singapore Festivals, the Istanbul Festival, NYYD festival (Estonia), Musica Ficta Festival (Lithuania), the CREA and 38eme Rugissants Festivals (France), Settembre Musica (Italy) and in Canada (Banff residency), the USA, Sweden, the Netherlands, Portugal and Spain.
education
pianocircus has a strong commitment to music education and has developed a range of new approaches to the teaching of composition and performance techniques using the latest MIDI and computing technology. The education programme has included projects at Dartington International Summer School and a composition and recording project for schools in east London funded by the Department for Education and Employment, performance projects for the Vale of Glamorgan Festival, workshops for university students in Indonesia, a community residency in rural France, a composition and performance project for music students in Budapest, composition and technology sessions with adult amateur musicians and workshops for London music colleges. In 2008 they ran a large project in partnership with Newcastle and Durham Universities, as part of I3, the composition strand of the Centre for Excellence in Music and Inclusivity. This year workshops have included the Exhibition Rd Festival for young composers and performers, and presenting the BBC Proms Family Music Intro for Multiple Piano Day.
appearances
pianocircus has made numerous radio and TV appearances including the BBC's National Lottery Show, The Score, What's That Noise?, The Late Show, Radio 3 In Tune, Late Junction, Mixing It, Radio 4 Kaleidoscope, World Service International Recital and Meridian, as well as appearances on Classic FM and numerous stations worldwide. Features on pianocircus have appeared in The Independent, The Guardian, The Observer, Time Out, BBC Music Magazine, The Wire, Scotland on Sunday, Classical Music Magazine and The Piano.
projects
pianocircus's two most recent CDs are now available - 'Transmission', co-produced by the ensemble, which includes a selection of the best works written for the ensemble over the past seven years, and 'Landscapes of the Heart', the soundtrack to an artistic collaboration with Scarabeus, the aerial theatre company. A collaboration with Michael Clark is an important feature of the group's artistic work in 2004 and 2005.
residency
pianocircus has been Associate Ensemble at Brunel University, School of Arts since 2004. This has enabled the group to rehearse and prepare for performances from a studio base, as well as giving them the opportunity to work with postgraduate composition students and local schools, through workshops and performances. They have also been able to develop and expand their relationships working with resident composers such as Colin Riley and Peter Wiegold and invited guest composers such as Graham Fitkin, Philip Mead and Philippe Kocher. They are currently supported by the PRSF for events within their 20th anniversary year.