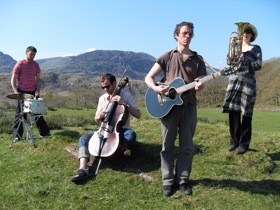 Daniel Padden & The One Ensemble
Daniel Padden & the One Ensemble is a fascinating Glasgow-based quartet that creates an unusual and experimental folk music. Their music is unique and engaging - at times ferocious and at times sombre, it moves from abstract minimalism to full-throated song to pocket-sized symphony.
"An inspired blend of the ominous and the scuzzy, Daniel Padden's One Ensemble goes from strength to strength. Here, in response to an invitation from Bristol's now defunct Venn Festival, Padden has expanded his usual quartet to seven, adding bass clarinet and other low woodwinds to his regular cello/viola set-up. His own guitar and vocals occupy a modest seat somewhere near the back, and the overall sounds is dominated by sombre strings and winds, with a fine harmonium solo moment on the rather medieval 'The Vapour'.
There's certainly a smattering of folksy moments here - on 'The Sun' a sea shanty is heard below decks before arriving centre stage for a choral harmony session; but then it's all swept away by some snappy, Stravinsky- style writing. Typically, Padden has three or four strong ideas in each of these eight pieces, and for all its looseness, his group are a delightfully non-uptight contemporary music ensemble, albeit one with a Lewis Carroll tinge. Bent on a unified ensemble sound, improvisatory, playful yet meditative at the same time - this is post-Cardew chamber music, as performed by the Walrus and the Carpenter. At the risk of appearing to take the whole thing over-seriously, its post-Howard Skempton: the long, slow lines, the insistence on melody, even the fondness for choral singing. At the same time there's an earthy, surreal theatricality, shared with other fringe groups such as the more rock-driven Super Best Friends Club."
- Clive Bell, The Wire, Review of 'Other Thunders', June 2009