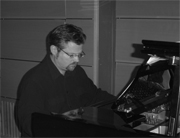 James Clapperton
James Clapperton was born in Aberdeen in 1968 and moved with his family to Banchory at the age of nine. He went on to study piano and composition at St. Mary's Music School in Edinburgh and later in Manchester, Freiburg, and in the USA.
In 1988 he was awarded the Kranichsteiner Musikpreis at the Darmstadt Ferienkurse fur Neue Musik in Germany. Since then he has given recitals at numerous leading festivals such as the Bruxelles Ars Musica, Donaueschingen Musiktage, Nuovi Spazi Musicali (Rome), St Petersburg Soundways, Strasbourg Musica and Tallinn NYYD. In recent years he has had a particularly close association with the music scenes in Norway and Russia. From 1998-2002 he taught composition at the Grieg Conservatory of Music in Bergen and was the Artistic Director of the Music Factory Festival. In 2002 he gave the Russian premiere of the complete Etudes for piano by Gyorgi Ligeti in the Shostakovitch Hall in St. Petersburg.
As a composer James Clapperton was awarded the PRS Prize for his violin concerto The Preiching of the Swallow in 1994. His music has been performed by eminent artists such as Andrew Ball, the Edinburgh String Quartet, the Endymion Ensemble, Expose, Yvar Mikhashoff, Steven Osborne and the Taiwan Chamber Orchestra. The Metier lable released a collection of his piano music in 2002 and his orchestral piece Songs and Dances of Death will be released on the Norwegian Composers' lable in 2007.
At present James Clapperton is completing a PhD at Edinburgh University in Russian Studies with Professor Larissa Ryazanova-Clarke. The thesis is based on interviews conducted with survivors of the siege of Leningrad.