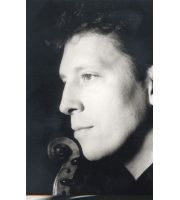 Paul Anderson
Paul Anderson was born in Torphins in 1970 and was brought up in Tarland. His family go back a long way in this area of North-East Scotland. His parents run a dairy farm, and Paul helps out on the farm quite a lot although he now works as a professional musician. He started having lessons on the fiddle when he was nine, but his interest in the instrument began when he was five, when he found a fiddle in the spare room at his grandparents' home. He said: "So, I found this and thought this was a great novelty, this musical instrument. So they [his grandparents] … seemed to think that I might hae an interest in learning to play. So they said that if I learnt to play it I could keep the fiddle." Paul explained that his grandparents did not play themselves, but they wanted to keep a fiddle at home for visitors who would provide entertainment. Paul still plays this instrument and really likes its tone.
Paul's first lessons came from Andy Linklater, the fiddle teacher at the local primary school, where he learned mainly classical music, and these lessons continued until later on in his studies at secondary school. He feels that a classical grounding is important as it enables you to play "a much wider selection of music". Paul began going to the Banchory Strathspey and Reel Society within a year of beginning lessons, and his parents were keen for him to learn. He said: "If you find out you've got a talent for playing something and you've got the encouragement fae your parents, it maks a huge difference." Paul practised every night for an hour to an hour and a half, and found that this was necessary partly due to the work he was doing on the farm: "Fit I found as well, you'd be doing a lot of work on the farm, and so to keep my hands supple, I found I needed to dae that practice to keep it going." He also has a brother and sister who play.
Paul is a very well-known fiddler in the North East who plays solo and in groups, teaches the fiddle and composes new tunes for the instrument.