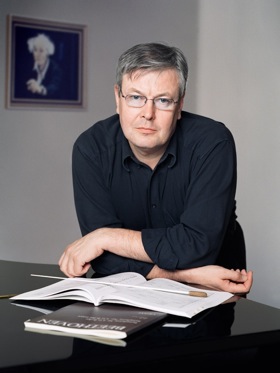 Petr Altrichter
Petr Altrichter is one of the Czech Republic's most distinguished conductors, having made an impressive name for himself through his dynamic and insightful interpretations of the Czech, Russian and German symphonic repertoire in particular. Altrichter is the Principal Guest Conductor of the Brno Philharmonic Orchestra, having been Principal Conductor from 2002-2009. Altrichter first came to international recognition in 1976 when he took second place and won the special award at the International Competition for Conductors in Besançon, France. He graduated from the Conservatory of Music in Ostrava in French horn and conducting and continued his studies at the Janacek Academy of Music and Dramatic Arts.
In his native country Petr Altrichter has held several important posts with leading orchestras. At the beginning of his career he trained with the late Vaclav Neumann as his Assistant with the Czech Philharmonic Orchestra. Having quickly progressed from Principal Guest Conductor to Chief Conductor of the Prague Symphony Orchestra between 1990 and 1992, Altrichter maintains a very close association with this orchestra. His recent international tours with the Prague Symphony and the Brno Philharmonic Orchestras have taken him on extensive visits to the USA, UK, Germany, Austria, Japan, Spain, Italy, France, and Switzerland. He also works regularly with the Czech Philharmonic, the Czech National Symphony and the Czech Radio Symphony Orchestras.
Having made his U.K. debut with the Prague Symphony Orchestra in the Edinburgh Festival in the early 1990s, Petr Altrichter first conducted the Royal Liverpool Philharmonic Orchestra in 1994 to great critical acclaim. He was subsequently appointed its Principal Conductor, a post he held from 1997 until 2001. With this orchestra he appeared at the 2000 BBC Proms at the Royal Albert Hall and made several highly-praised recordings on the orchestra's own label, RLPO live. In the U.K. Petr Altrichter has also worked with the BBC Symphony Orchestra, the Royal Scottish National Orchestra and the London Philharmonic Orchestra.
Petr Altrichter was Music Director of the Südwestdeutsche Philharmonie in Konstanz, Germany from 1993 until 2004. He has conducted many orchestras all over the world and participated at many prestigious festivals. His international guest conducting engagements have included the Japan Symphony Orchestra, Berlin Symphony Orchestra, the Verdi Orchestra Milan, Orchestre Philharmonique du Luxembourg, Stavanger Symphony, Norrkopings Symphonieorchester, Netherlands Philharmonic, Warsaw Philharmonic and Orquesta Filarmonica de Gran Canaria. Recent and future engagements include a tour of Japan with the Brno Philharmonic Orchestra and a tour of the UK with the Czech National Symphony Orchestra in February 2010. He will also return to the Prague Spring Festival in May 2010. Conducting debuts include projects with the Orquesta Filarmónica de Málaga, the Graz Philharmonic, the BBC Scottish Symphony, the Latvian National Symphony and the Jerusalem Symphony Orchestras.